We welcome with love
Viola Mary Wertz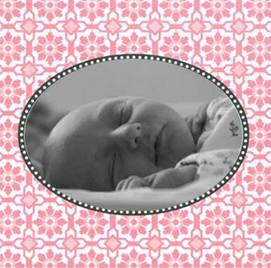 June 10, 2006 3:04 p.m.
6 lbs, 3 oz 18 inches
Our little Viola Mary chose to make an entrance two and a half weeks early, but though she is tiny (5 lbs, 12 ounces as of yesterday), she is doing beautifully. She arrived home on Thursday, June 15th and was delighted to meet her big puppy-sister Ivy. She is sweet and snuggly and very content with life (so far she doesn't cry—but we're prepared for the newborn sleepiness to wear off very soon). We chose her name because it is a flower, an instrument, and a Shakespearean heroine--and because it is so soft and nice to say. It is pronounced like violin or violet, not like the instrument. Her middle name is after her maternal grandmother, my amazing mother (who is here offering invaluable support). Viola also surprised us by not looking at all like we expected (a full head of black hair like Matt had at birth). She looks just like her cousin Samuel with very golden hair (though at birth it was reddish like my brothers') and those white eyelashes that you can only see up close....Who knew!? We assume her fair coloring will change as she grows and that she will soon look like her dark haired, dark eyed parents! She is the sweetest little miracle, and we are simply rapt by her. I cry at least once a day I am so in love (and hormonal). We are still amazed by all of the love and support we've received in this first week of our little daughter's life. Thank you for the visits and calls and kind wishes.We are so grateful. Viola is one loved little girl, and we want to thank you all so much for welcoming her so warmly.
With love,
Liz, Matt & Viola
See Viola's blog!!!
Updated February 25, 2007
Todzia Beach Week 2006 & Wertz family cookout (summer 2006)
Megan & Brooke shoot (no Viola)
Updated January 22, 2007
Trish and Jason's engagement party
Newest Pictures (11/1/2006):
New Pictures:
More Week 3 at Nikesh & Masumi's wedding
Pictures: